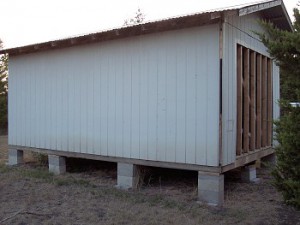 There are always a couple of projects in the works here at The Ranch. This year we are building out the Bunkhouse. For the last year the kitties have had to come into our home during inclement weather. We usually have 8-10 cats in the house anyway, but add another 12 or so during bad weather and it's a cat circus. We have been using a small metal building for the kids that don't like the indoors. Once the bunkhouse is complete the metal building is going to be given to a friend of ours for her feral cat colony. The Bunkhouse will have a pet door so the cats can come and go as they please. John donated the shell of the building and set it up next to the Cat Corral. He has the plans drawn for the interior to have three rooms; one room for quarantine, one room for supplies and office space and the last room for the general populous of kitties. There will be windows with seating areas for the cats and a staircase attached to the wall for them to climb. I have been advertising all over town that we need old barn wood for the interior walls. We are ready, willing and able to destruct any old barn that you may know of. The water meter is already set in place and we have to install the water lines. Electricity will need to be run to the area, so, we also need a breaker box, and of course money is in big demand for the $1,500.00 to have the electricity brought from the road to the Bunkhouse.
Our friends at Bubba's Lone Star Propane have donated a propane tank to The Cat Ranch. Aren't they nice? We will keep you updated with the progress on the Bunkhouse.
Please consider making a donation for the Bunkhouse project in memory of your dear kitties that have passed on.