Cedar Forest Cat Ranch, Inc. a 501(c)(3) non-profit organization was formed as the needs of the abandoned and feral cat population in Southeast Travis County Texas grew over the past several years. Unfortunately the spaying or neutering of companion animals is not a priority by many pet owners and the abandoned pet population has exploded.
The Cat Ranch received non-profit status from the Internal Revenue Service in March of 2006. Cedar Forest Cat Ranch, Inc.'s primary mission is to rescue, foster and offer adoption services for the lost, abused, abandoned and homeless cats that make their way to us in one manner or another. Prior to being granted non-profit status we (John and Rebecca Oldag) the operating managers of Cedar Forest Cat Ranch rescued and had sterilization procedures performed on 61 cats beginning in June of 2003. Twenty-three of the 61 cats that were in foster care at The Ranch are now living with their very own loving families.
The first priority, once an animal has been placed in the care of the Cedar Forest Cat Ranch, is to have a wellness check performed by a veterinarian. The cat is then neutered or spayed and is kept in quarantine in our home for a minimum of one week. Once sterilized and vaccinated the cat is allowed to spend time in the "Cat Corral". The Cat Corral is an enclosed area of approximately 600 linear feet and is designed to keep the cats within the confines of the corral and to keep other animals out. The cats get to climb trees, play with one another and generally have a safe and healthy life.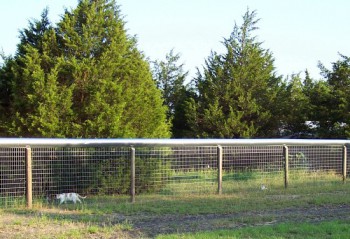 All of the cats take turns spending time in our home. Many of them ask to come inside or ask to go outside to the corral. We pride ourselves in knowing the individual personalities of each of these special little creatures. By knowing their personalities as we do we can make the best match of kitty to human that is possible.
We hope to continue our mission for many years to come.
Come out to The Ranch and spend time getting to know them as we do.